Pump the impossible. Brain Industries pneumatic industrial pumps work where conventional pumps won't.
Pneumatic industrial pumps designed for your industry.
Brain industrial pumps are suitable for confined spaces or hard to reach areas. Use them for pumping in agriculture, mines, ships, rigs and sewers. 
Pressure Discharge Pumps
Gravity Discharge Pumps
Other Pumps
Pump Accessories
Brain Airloader Industrial Pumps
Brain Airloader pneumatic industrial pumps handle just about any flowable material including sludge or slurries with solids to sand. Unlike conventional pumps, which rely on vacuum displacement, Brain Airloader compressed air pumps combine high velocity suction airflow with a powerful vacuum. The pumps come in a range of sizes to meet your needs.
We make both gravity discharge pumps and pressure discharge pumps. 
Gravity discharge pumps are ideal when you wish to drop material into a nearby tank, container or other receptacle or on to a conveyor belt. You don't want your materials coming out with great force.
Pressure discharge pumps help you to transfer or pneumatically convey material via pipe over larger distances.
We can also deliver pumps with DNV GL compliant frames. DNV GL certify  compliance according to a third party standard, such as ISO 9001 (quality management system) or ISO 14001 (environmental management system).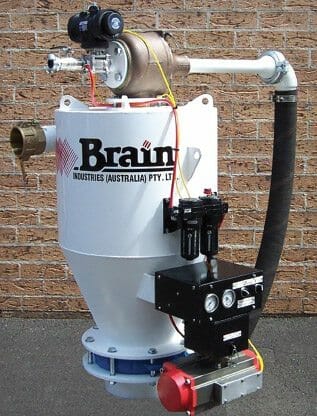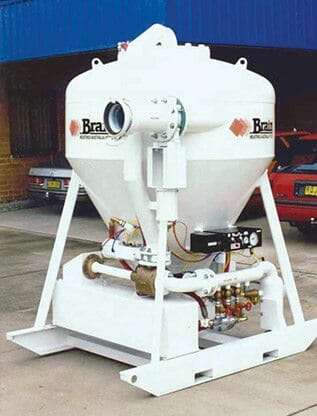 Choose the Brain Airloader industrial pump that is right for you.
The Brain Mudskipper is our smallest and most popular pump. Use with the Mudskipper© Sieve Bend to continually separate solids while pumping.
Separate solids from sludge and slurry.
Use in conjunction with the Mudskipper Pump or we can customise to suit any of our Airloader pumps.
The bend removes the bulk of the water in the discharge feed from the pump. All solids larger than 0.4mm are returned onto the belt or collected for disposal. The underflow water exits by gravity or may be pumped away.
The bend can straddle a belt conveyor or be fixed to the roof in underground mines.  
Recover, haul and dump heavily solids laden slurries and sludges containing lumps up to 150mm with Brain's Self-Filling Tanker.
Skid-mounted or trailer-mounted to match your needs. 
The trailer-mounted self-filling tanker is supplied with rocker arm load sharing swing axles, lubricated hubs and solid rubber tyres.
The tanker is powered by  your site pneumatic system, making it perfect for the underground coal mining, hard rock mining, tunnelling and industrial cleaning industries.
Air-Operated Float Switch
Eliminate excessive air consumption and premature wear caused by dry running with the BrainAir-Operated Float Switch.
The switch ensures your pump operates only when it needs to, turning on and off automatically at pre-determined levels. It can handle level differentials from 125mm up to 3000mm and can be reverse operated.
News & Media Releases
Brain Industries has appointed Nathan Pearson to its growing sales and customer service team. Nathan (on the left in the image) has the role of
Read More »
Newsletters
We're a finalist in the HMA Awards A credit to the genius team at Brain Industries, we're a finalist in the 2020 Hunter Manufacturing Awards.
Read More »
Newsletters
Q and A video: The benefit of using Brain pneumatic pumps Whether you are in the mining, tunnelling or oil and gas industry, reliable pumping
Read More »
More Genius Solutions from Brain Industries