If you have water, sludge or slurry issues from rain and flodding that you need to fix now, hiring a Brain pump is the smart and cost effective solution. Brain's range of pumps including its Mudskipper, Airloader 300 and 500 series pumps are available for HIRE NOW.
Read more about Brain equipment hire.
Brain Mudskipper and Airloader pumps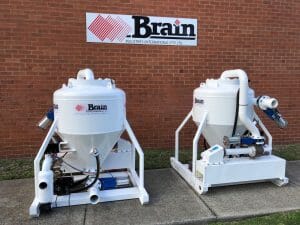 The Mudskipper is a small yet powerful pump can easily vacuum and discharge sludges, slurries, and mud with solids up to 60mm. It is great for hard to get to and confined spaces.
Unlike conventional pumps, which rely on vacuum displacement, Brain Airloader compressed air pumps combine high velocity suction airflow with a powerful vacuum. The 300 series and 500 series suction load the thickest and most viscous of materials (with solids up to 80mm) across horizontal distances in excess of 100m and vertical suction lifts in excess of 35m. Discharge over distances up to 1000m horizontally and heads of up to 60m. The 500 series pumps at a faster rate.
Why Brain pumps?

Our pumps are the original design – and the best. Made in Australia and built to last in the toughest conditions. They have no internal moving parts for better safety and reliability. With Brain, you can pump the impossible.
Get in touch today about hiring a Brain pump

Call Ernie Lapornik today on 0429 916 097 to discuss hiring the right pump for your needs. Or use our contact form.