More accolades for our genius team
We're chuffed to have been named runner up (highly commended) in the Manufacturer of the Year (Under 50 Employees) Award at the 2020 Hunter Manufacturing Awards.
Brain was also a finalist in the Hunter Business Awards in the Exporter/Importer of the Year Award.
We're proud to be an Australian manufacturer providing quality solutions and products for our clients across a growing range of industries and creating Australian manufacturing engineering and trade jobs.
Polyurethane products to solve complex problems
Brain Industries is known for its polyurethane pulley lagging, belt scrapers and other products but we can also custom make polyurethane products to solve your complex problems.
Read our case study on how we extended the life of a customer's Vee Belt equipment by a factor of four using the power of polyurethane.
Polyurethane is long lasting, fire safe and flexible.
Quick turnaround – thanks to our two large polyurethane ovens.
Find out more about the benefits of polyurethane and our products here.
Mines are using Visyload to detect loads
Hundreds of Brain's game-changing Visyload load detecting washers now deployed in NSW & QLD underground mines.
Visyload is easy to install on to a rock bolt, other bolt or threaded anchor. When the Visyload tabs are fully deployed, they curl down. This indicates the applied tension or torque to confirm the rock bolt's or anchor's safe working load limit.
Read more about how you can save time and money using Visyload here or watch the video here.
Contact us about your needs today.
Pump the impossible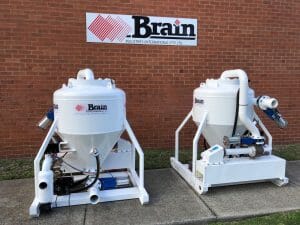 You can pump the impossible with Brain's Airloader vacuum recovery units. Recover or transfer any flowable substance.
Our pumps are in mines, on drill rigs, on floating production storage and offloading facilities, and are cleaning ship's hulls. That's because they are portable, simple to use and have no internal working parts – for less wear and tear and better safety
Read more about our complete range of pneumatic pumps here.
More information or to request a quote
To discuss any of your industrial equipment needs, call the genius team at Brain Industries on +61 2 4969 2111, email admin@brainindustries.com.au or use our contact form.