Brain conveyor pulleys in hot demand
Our team as been run off their feet completing pre-Christmas pulley jobs – new pulleys, pulley repairs and refurbishments.
More businesses are turning to Brain's Australian custom made and designed pulleys because they last and can operate in tough conditions.
That's because we make pulley shells and end discs from certified steel plate and we ultrasonically test and magnetic particle test all welds in accordance with Australian standards.
We have the equipment to carry out every engineering and testing activity on site which reduces lead times and controls quality.
Tip: If you're doing scheduled maintenance or a scheduled shutdown on your conveyor system, check to see if you need to refurbish or replace your conveyor pulley.
Read more about Brain Industries' conveyor pulleys.
Not just conveyor pulleys but lagging too 
Brain Industries is also the expert in lagging for conveyor pulleys.
Our pulley lagging bonds perfectly to the shell of your conveyor pulleys. This extends the life of your pulleys and provides better grip to the conveyor.
Read more about our extensive lagging range here and watch our video on why you need to use Brain lagging here.
Contact us about your needs today.
Tips for protecting lagging to extend service life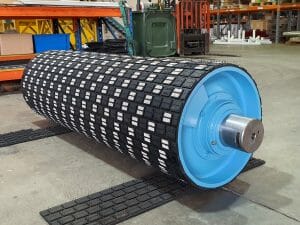 The life expectancy or service life of your conveyor pulley lagging depends on the operating environment, maintenance quality and frequency, and how the equipment is used.
Here are our top Dos and Don'ts for protecting lagging.
Meet Ernest Lapornik
Ernest (Ernie) is our new Business Development Manager. With almost 20 years' experience in engineering and industrial equipment sales roles, Ernie has the skills and knowledge to advise your business.
He is looking forward to being able to supply you with one of Brain's Aussie made products. Or a customised solution to whatever pumping or materials handling issue you are facing.
Contact Ernie via the office on +61 2 4969 2111 or direct on +61 429 916 097 or email ernest@brainindustries.com.au. Connect with him on LinkedIn.
Merry Christmas – holiday opening times
Brain Industries will close from 5pm Wednesday December 23 until Monday January 4, 2021.
Emergency contacts: Steve – 0409 447 891 or Gillian – 0418 161 179.
We wish you a very merry Christmas and a happy, healthy and prosperous New Year. And we look forward to working with you in 2021!
More information or to request a quote 
To discuss any of your industrial equipment needs, call the genius team at Brain Industries on +61 2 4969 2111, email admin@brainindustries.com.au or use our contact form.